Do you know that you can actually make the ideal cute stickers at home? The vibrant and bright colors perform fabulously on the lovely things made with printable vinyl. Fantastic decorations for your diary, notebook, phone cases, cups, and wall!
If you are a novice to handicrafts, you may have lots of questions before getting started. Things like: What is printable vinyl? How to use printable vinyl? What kind of printer do I need for printable vinyl? Is printable vinyl water-resistant?... will haunt you for a while. 
But you don't have to worry, here I am about to answer your questions about printable vinyl and help make stunning creations.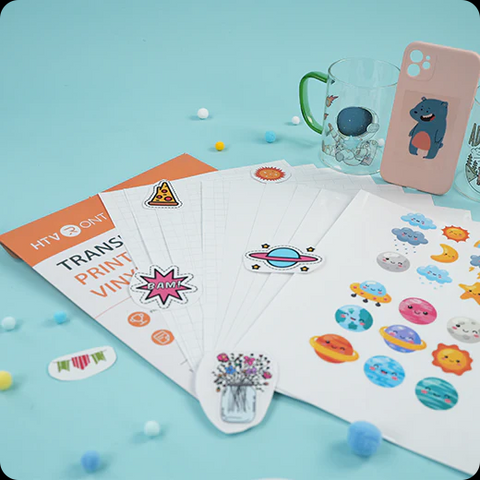 What is printable vinyl?
At first, we need to understand what printable vinyl is. Printable vinyl is a kind of vinyl that can be printed with various images and stuck to any smooth surfaces like glass, metal, ceramics, plastic, etc. If you ever tried adhesive vinyl, you can see that there are some similarities between them: both are sticky and can be cut out with the design. And they cannot be applied to soft, dirty, and wet objects.
But compared to self adhesive vinyl, using printable vinyl to make stickers have these advantages.
Unlike adhesive vinyl, in which the color of designs depends on the type of materials you choose, if you want to display different colors on the same project, you need not just one sheet of adhesive vinyl. But for printable vinyl, which can print with diverse colors and images on the same page, the creativity will not be trapped by materials.
Printable vinyl combines this easy-to-peel feature that the printable sticker paper can be applied freely and repeatedly on different smooth items several times. And you can feel assured that there will be no sticky residues left.
For saving the precious time of crafters, the printable vinyl also performs an excellent cutting characteristic so that the design can be cut out precisely with a cutter. And there is no need to weed away the excess
vinyl sticker paper
.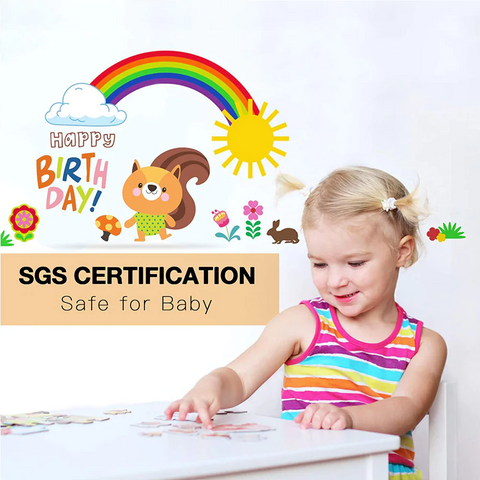 How to use printable vinyl? 
Now it's time for us to create some cutie stickers in real. Before we do it, let's see what we need as preparation.
Tools: 
(1)A printer with regular ink; 
(2)Printable vinyl; 
(3)Glossy or matte film;
(4)A cutting mat; 
(5)A cutting machine, or a pair of scissors.
Firstly, you need to make your ideal designs on the computer, and then use a printer to print the images on the printable vinyl. How to print vinyl stickers? (Note to print with the sticky side facing up.) Remember to select the mode: "High Quality" + "Plain Paper", and size: "8.5x11inch Letter Paper" while printing to get a better effect.
Next, let the result dry for 1-2mins to avoid image damage. If you would like to add some matte or glossy visual effects to the stickers, you can put on a matte or glossy film to realize your idea. 
Then, set the proper cutting settings on your cutter and check it to make sure. You don't wanna break your printed design. If you cannot distinguish which side is the cutting side, then peel off a small part of the sticker paper and the sticky and smooth backing is for cutting.
Place the printed sticker paper on the cutting mat, align the position, and send the printable sticker paper into your cutting machine. Let the cutter works perfectly. Or you can just cut out the images respectively with a pair of scissors.
Take out the printable vinyl and peel off your designs to apply. You can stick them to your cups, mugs, glass, window, mirrors, notebooks... Amazing decorations!

What kind of printer do you need for printable vinyl?
Since there are several kinds of printers on the market, you may be confused when choosing an appropriate one to match your printable vinyl. In fact, your printable vinyl can suit the most common inkjet printers with regular ink. But be careful, do not use laser printers, or it will be a disaster! And remember not to scratch the images in the 5mins after printing.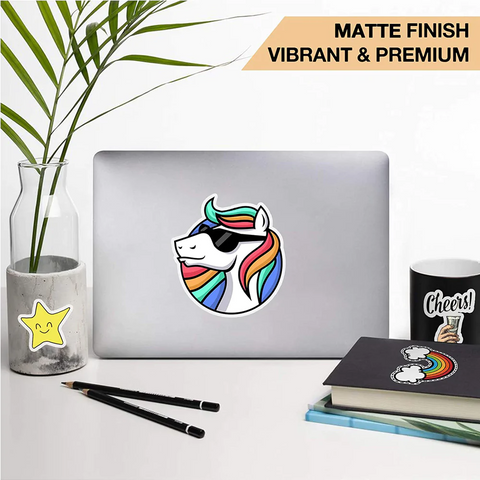 Is printable vinyl waterproof?
Just like adhesive vinyl that combines strong water resistance, printable vinyl can also withstand rain and water. The vinyl printer paper is quite sticky and can hold on tightly to smooth surfaces. Therefore, the waterproof printable vinyl can fit many scenarios indoors and outdoors. Meanwhile, You do not need to think about adding some glue to boost the adhesive of the sticker paper since the printable sticker paper already combines premium glue.
And if you are not sure how strong its stickiness is, you can seal the printable vinyl with a UV-resistant sealer spray or add a piece of laminated paper. In this way, the printable vinyl for cricut will perform better waterproofness and durability. 
Did I answer most of your questions about printable vinyl? If you like it, you can share this blog with friends who like handicrafts. Or if there are more questions, feel free to leave a comment and I may write down another blog.